On early Tuesday, October 5, 2021 the Edinburg Chamber of Commerce announced the recipients of the Edinburg Chamber of Commerce 2021 Man and Woman of the Year, Outstanding Leadership Award, and Ambassador of the Year. Recipients of these awards will be honored at the "Under the Neon Moon" Installation & Awards Banquet set for Thursday, October 14, 2021 at the McIntyre Promenade from 7 P.M. – 9:30 P.M.
The Man and Woman of the Year recognition has been a highly anticipated tradition in the Edinburg community for over 20 years. This year's recipients have demonstrated commitment to its community, improved the quality of life in Edinburg through volunteerism, and commitment to civic endeavors. The 2021 recipient of Man of the Year is Hiren Govind and the 2021 Woman of the Year is Dr. Marissa I. Gomez-Martinez.
Hiren Govind Named Man of the Year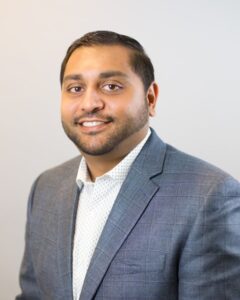 Hiren Govind is an Edinburg resident and business owner of Towneplace Suites by Marriot Edinburg and Best Western Plus Edinburg. 
Govind's love for his community can be seen in his generous acts. For over 20 years, Govind has partnered with the Edinburg Fire Department and has donated stays for Edinburg residents who have lost their homes due to house fires.
When the unprecedented 2021 Texas winter freeze devastated the region, Govind worked to provide over 200 warm meals to our community.
Most recently, Govind showed his support to the U.S. National Guard by opening his hotel properties to them during the ongoing COVID-19 pandemic. This provided support to regional hospitals during the COVID-19 pandemic.
Dr. Marissa I. Gomez-Martinez Named Woman of the Year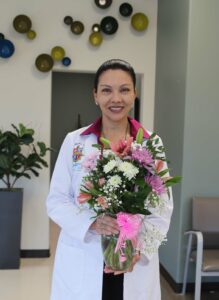 Dr. Marrissa I. Gomez-Marinez is Board Certified Family Physician and is the medical director for the DHR Health Edinburg CISD School Based Health Center as well as Physician Advisor to DHR Health Urgent Care and Employee Health.
Throughout Dr. Gomez-Martinez career she has demonstrated outstanding care for her community. An example of this was when she organized and participated in a free flu vaccine clinic in the colonias for low income children of Edinburg, working with Catholic leaders and various local charity leaders.
In May 2021 Dr. Gomez-Martinez helped raise money for the American Cancer Society by successfully completing the Cancer Research Month 40 Mile Walk Challenge, walking 90 miles.
Additionally Dr. Gomez-Martinez has been a Girl Scout volunteer for the last ten years. She is a Girl Scout Troop Leader in the Edinburg chapter of Girl Scout troops, the Edinburg Service Unit, as well as with Girl Scouts of Greater South Texas. She has received the President's Volunteer Service award, gold and silver levels, for the past 3 years in a row, accumulating close to 2000 community service hours in the last 4 years. 
Dr. Gomez-Martinez empowers our community's youth to pursue careers in STEM. Having participated in DHR Health Institute for Research and Development's first summer program, the Junior Clinical Research Internship.
Celebrate with us!
The Edinburg Chamber will be celebrating all award winners during the Installation and Awards Banquet as well as its successes from throughout the year. The outgoing President of the Board, Veronica Gonzales will be presented with the coveted Red President's Jacket. Gonzales will pass the gavel to 2021-2022, President-elect Micheal J. Williamson.
Our proud sponsors include Texas National Bank, DHR Health, City of Edinburg, UTRGV, Edwards Abstract & Title Co, Elevents, Socialife Magazine, L&F Distributors, Greater State Bank, UTRGV Athletics, The Monitor and AT&T.
Join the evening of celebration by purchasing an Individual ticket for $75. Tables of 8 are also available for $500 for Edinburg Chamber members, and $600 for non-members. Attire will be semi-formal, all are encouraged to participate in the Western theme.
For more information or to RSVP for this event, please contact the Edinburg Chamber of Commerce at 956-383-4974.